These Creamy Spinach and Sausage Stuffed Portobello Mushrooms make a delicious dinner! This is a low-carb, high protein dinner recipe.
I find myself cooking almost entirely with chicken and beef. Maybe you're the same? I was recently thinking that I should really include more pork into our meals for some variety, so I decided to buy some sausage and some pork loin.
I couldn't think what to make, but my kids had been asking me to buy the giant mushrooms (that's what they call portobello mushrooms) for a while, so I decided to combine the two ingredients and make a new recipe, and these creamy spinach and sausage stuffed portobello mushrooms were the result.
These were so good! They would also be a wonderful appetizer if you substituted regular mushrooms for the portobellos. They are definitely rich, but oh so yummy!
It is actually surprising, but my kids love mushrooms, and my middle kid adores vegetables of all kinds. When he was really little, he would steal the veggies off our plates if we weren't looking.
Little Man was especially fond of asparagus, broccoli, and spinach, which seems funny since those are typically veggies that kids hate! The funniest part is that he would try to be so sneaky about stealing the vegetables, when we would have obviously given him plenty more if he would have just asked!
I decided to incorporate spinach into this recipe to make it a little bit healthy. Everyone in my family loved these creamy spinach and sausage stuffed portabello mushrooms and they all hope I'll make these for dinner again soon!
Yield: 4
Creamy Spinach and Sausage Stuffed Portabello Mushrooms
These Creamy Spinach and Sausage Stuffed Portobello Mushrooms make a delicious dinner! Perfect for the keto diet, but delicious anytime!
Ingredients
4 Portobello Mushrooms
1 lb. Sausage, cooked
8 oz. Cream Cheese, softened
2 C. Spinach, chopped
Instructions
Preheat oven to 350 degrees
Wash mushrooms and remove stem. Place mushrooms upside down on a cookie sheet. Mince stem.
Chop spinach into small pieces.
Stir together sausage, cream cheese, mushroom pieces and spinach. Divide mixture between the mushrooms.
Bake for 15 minutes, or until top of mixture begins to brown slightly.
Recommended Products
As an Amazon Associate and member of other affiliate programs, I earn from qualifying purchases.
Nutrition Information:
Yield:
4
Serving Size:
4 Servings
Amount Per Serving:
Calories:

584
Total Fat:

52g
Saturated Fat:

22g
Trans Fat:

0g
Unsaturated Fat:

23g
Cholesterol:

126mg
Sodium:

1184mg
Carbohydrates:

10g
Fiber:

3g
Sugar:

5g
Protein:

21g
The nutritional information provided here is not guaranteed to be accurate and is provided for informational (and google) purposes only.
Do you have a favorite recipe using sausage, or pork in general? I'd love more ideas!
Sharing this recipe at: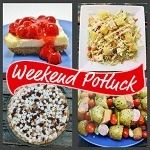 This recipe contains: sausage, spinach, portobello mushrooms, cream cheese
Save
Save
Save [wprm-recipe-jump] [wprm-recipe-jump]